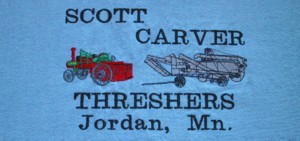 Mission Statement:

To preserve the agricultural and industrial history from the past for the enjoyment and education of the future generations. The pioneer setting includes historical displays and demonstrations of antique tractors and equipment in Minnesota.
This being accomplished in the annual steam festival with live demonstrations of steam tractors, engines, threshing, plowing, saw mill, print shop, blacksmith, rug making, etc. Also on the grounds there is a Log House, East Union Store, Print Shop, Blacksmith shop, Saw Mill, Country Store, School House, Book Store and various displays of antiques.

Membership:

Scott-Carver Threshers welcome members of all ages. Membership gives you year-round involvement with the many activities. Regular meetings are held at 7:00pm on the second Wednesday of the month. From May through October the meetings are held on the grounds at the Threshers Kitchen and from November through April they are held at the Scott County Fairgrounds. The annual swap meet is the first weekend of May. During the spring and summer there are work Saturdays for members to ready the grounds, buildings, and machinery for the annual August Harvest Festival, held the first weekend of August.
The membership fee is $20 per person 18 years and over and a family membership is $30 per year. This is a great hobby that will utilize as much of your time as you are willing to donate. We need "A lot of people doing a little, not a few people doing a lot". As a member you will receive the "Old Time Gazette" news letter every other month.

Please download the membership form and follow the included instructions: Membership Form
See also the Personal Transportation Safety Rules: P.T.S.R. Form